24 Agustus 2021 13:34 WIB
Penulis: Fadel Surur
JAKARTA – Since the era of Indonesia's independence until now, infrastructure development has become the main agenda that has been promoted by the government. Various projects are being worked on, ranging from buildings, bridges, airports, dams, to toll roads.
It cannot be denied, especially for toll roads, that they are often seen as the prima donna of an infrastructure project. The reason is, the success of the construction of this freeway can be proud of other countries.
Indirectly, the position of the Head of State was also raised because he was considered to have made achievements during his leadership period.
Realization of toll road construction for each regime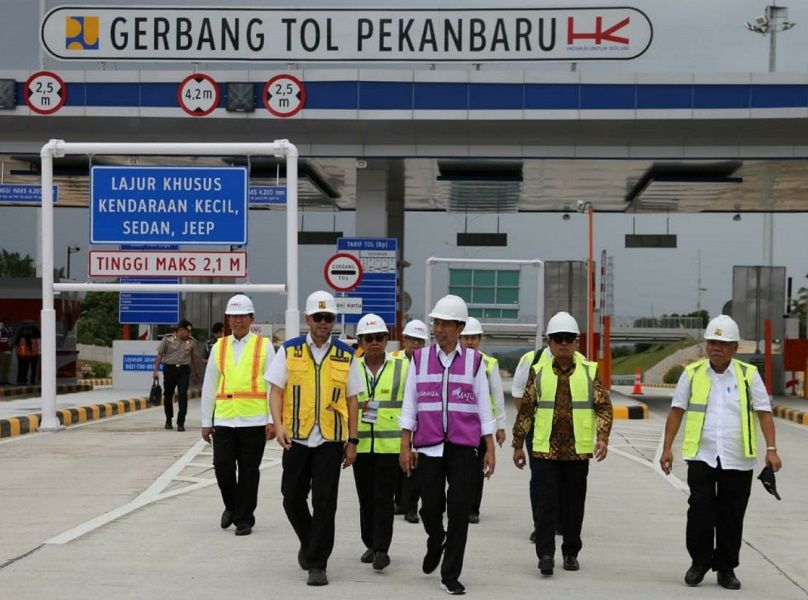 Judging from its history, road construction was successfully carried out in the era of President Sukarno, namely in Jakarta. In 1955, a new 40-meter-long road was built in Kebayoran Baru. Entering the 1960s, the government also built a road known as the Jakarta Bypass, crossing Cililitan to Tanjung Priok.
As for the construction of the toll road itself, the government first built it in 1978 or in the President Soeharto era. With a length of 59 kilo meters (km), Jagorawi is the first toll road to operate successfully.
"This toll road connects Jakarta, Bogor and Ciawi," wrote the official website of the Ministry of Public Works and Public Housing (PUPR) through the Toll Road Regulatory Agency (BPJT).
The toll roads that were successfully built during Suharto's leadership for 34 years are 490 km long.
Then, during the leadership period of approximately one year, President B.J Habibie built a total of 12.75-km-long toll road.
The construction of the shortest toll road occurred during the leadership of President Abdurrahman Wahid or Gusdur. For approximately two years, only 5.5 km of toll roads were built.
Furthermore, when Indonesia was led by President Megawati Soekarnoputri for three years, the toll roads that operated were 34 km long.
Changing the leadership term, President Susilo Bambang Yudhoyono (SBY) has succeeded in operating a toll road of 230.69 km. This development was carried out for ten years or twice the period he served.
Recently, in the era of President Jokowi's leadership from 2014 to the end of last year, the toll roads built reached 1,530.86 km. This development is the longest compared to the leadership of previous presidents.
In total, since 1978, operating toll roads have reached 2,303.8 km throughout Indonesia. By 2024, the total toll roads targeted to operate will reach 4,817 km.
During the Jokowi administration, toll road construction was indeed a priority. In fact, this agenda is recorded in the National Strategic Project (PSN). In the 2020-2024 period, it is targeted that 53 new toll roads will operate.
Most recently, in the near future, the government will inaugurate three toll roads with a length of 69 km. The first is the Balikpapan-Samarinda (Balsam) Toll Road Section I for the Balikpapan – Samboja section (22 km) and Section V for the Sepinggan - Balikpapan section (11.1 km).
The second toll road that is ready to be inaugurated is the Serang – Panimbang Section 1 Toll Road along 26.5 km. This toll road connects Serang – Rangkasbitung for 83.67 km.
Third, namely the Elevated Toll Road in the Kelapa Gading - Pulo Gebang section of the city with a length of 9.3 km. This toll road will be connected to the JORR Section E Toll Road network to the Marunda Special Economic Zone (SEZ) and Tanjung Priok Port.
Infrastructure development red note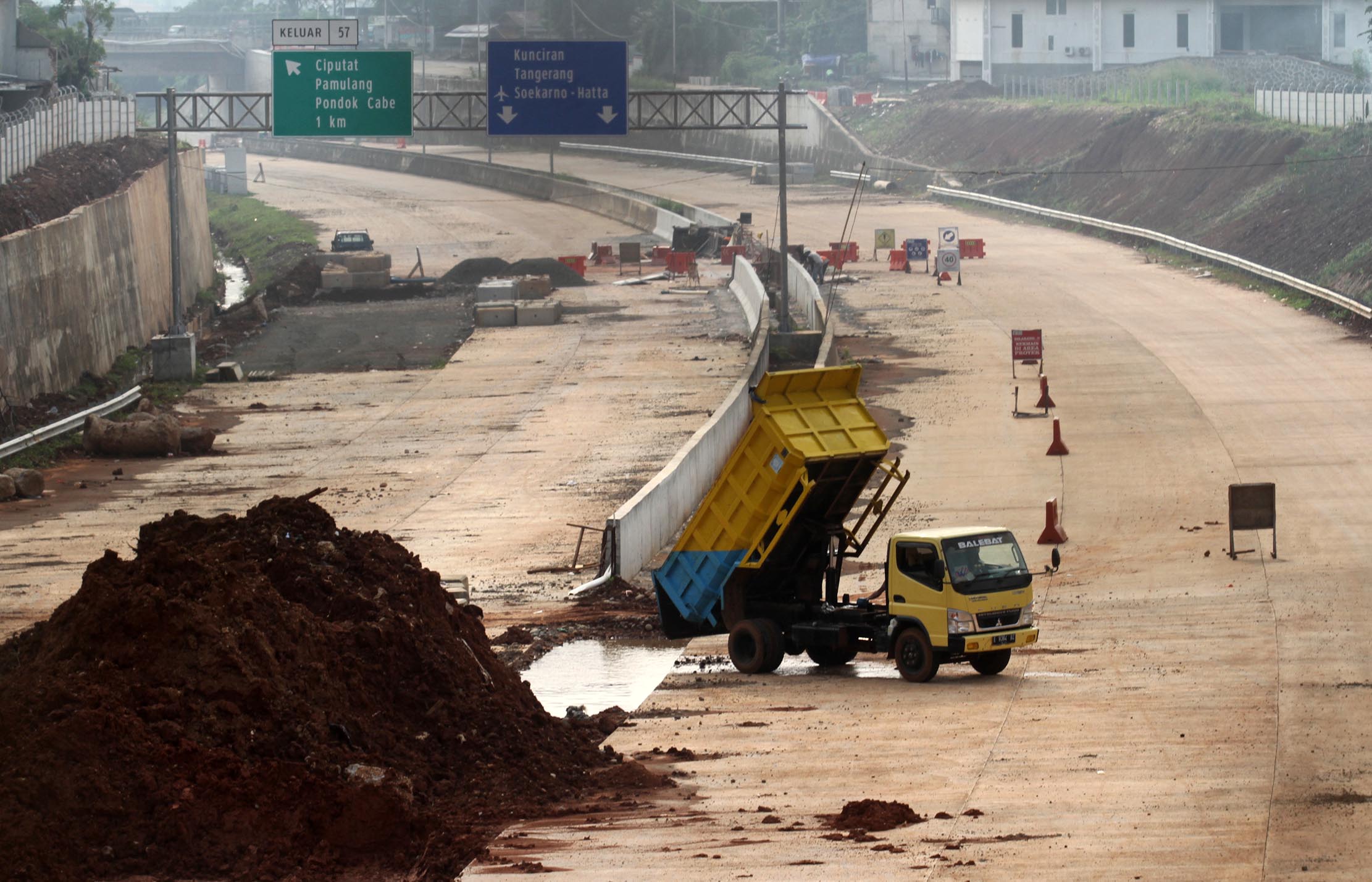 However, unfortunately this infrastructure development in general still has a red note. The World Bank in its 2018 report entitled Infrastructure Sector Assessment Program (InfraSAP) stated that the quality of development in Indonesia was not well planned.
The government is considered to be too dependent on the project to State-Owned Enterprises (BUMN). Not much different, actually since the era before the reform, the World Bank has also criticized infrastructure development in the country.
Poor financial conditions caused projects at that time to be built on unhealthy debt conditions. As a result, the state is struggling to find funds. This was also one of the factors that dragged Indonesia into the 1998 economic crisis.
As is known, many infrastructure development projects are handed over to state-owned companies. However, ironically it is not accompanied by the company's ability to bear the funding. As a result, most of the toll roads are sold, for example through divestment or selling some shares.
Toll road divestment by construction SOEs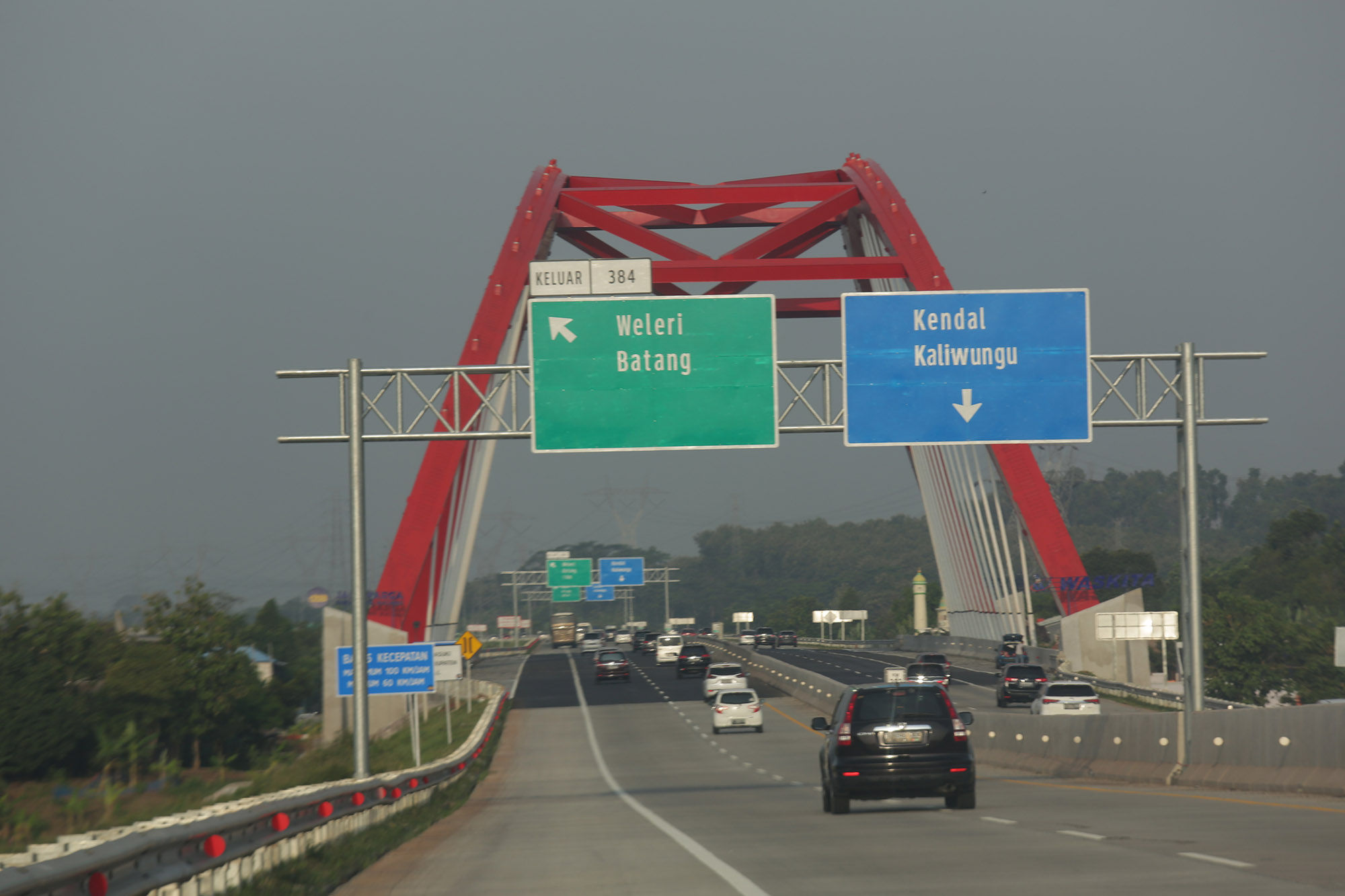 A subsidiary of PT Waskita Karya (Persero) Tbk (WKST), PT Waskita Toll Road (WTR), for example, recently released a 55% stake in the Cibitung-Cilincing toll road which is managed by PT Cibitung Tanjung Priok Port Tollways.
The value of the 55% shares reaching Rp2.49 trillion, was released to PT Akses Pelabuhan Indonesia, which is a subsidiary of PT Pelabuhan Indonesia Developer and PT Pelabuhan Tanjung Priok, as well as part of the PT Pelabuhan Indonesia II (Persero) group of companies.
From this action, the share ownership of Indonesian Port Access in Cibitung Tanjung Priok Port Tollways increased, from 45% to 100%.
In addition, at the beginning of last month WTR also released a 20% stake in the Semarang-Batang toll road and 34.99% in the Cinere-Serpong toll road to PT Sarana Multi Infrastruktur (Persero) or SMI.
The two toll roads were released with a value of Rp2.07 trillion. SMI itself is a special financing company for state-owned infrastructure that holds 10.62% of WTR's shares.
Another share divestment was also carried out to investors from Hong Kong, namely Road King Expressway (RKE) through its subsidiary Kings Ring Limited (KRL). WTR released a 30% stake in the Medan-Kualanamu-Tebing Tinggi toll road with a value of Rp824 billion.
WSKT itself noted that throughout 2021 the company will divest nine toll road sections. In addition to the three sections that have been divested, according to data from the Ministry of Public Works and Public Housing (PUPR), the other six sections are Kuala Tanjung-Tebing Tinggi-Parapat (sections 1-6), Cinere-Serpong (sections 1-2), and Bogor. -Ciawi-Sukabumi (sections 1-4).
Then, Depok-Antasari (sections 1-3), Pemalang-Batang (sections 1-2), and Krian-Legundi-Bunder-Manyar (sections 1-4). The nine toll roads have a total length of 483.53 km.
Since 2014, WSKT's divestment has reached Rp10.31 trillion. However, the company still bears a heavy financial burden. During the first three months of 2021, the company incurred a net loss of Rp46.09 billion.
Although per semester I-2021 managed to record a profit of Rp41 billion, the company's revenue fell by 41.2% year-on-year (yoy) to Rp4.7 trillion. This amount is lower than the same period in 2020 of Rp8 trillion.
Total liabilities also increased, from Rp89 trillion at the end of 2020 to Rp89.7 trillion in this period. Meanwhile, WSKT's short-term debt was recorded at Rp28.8 trillion per semester I-2021.
Not only WSKT, another state-owned construction company, namely PT Pembangunan Perumahan (Persero) Tbk (PTPP) this year also released a 15% stake in PT Jasamarga Kualanamu Tol to Kings Ring Limited. The transaction value reached Rp412 billion.
Meanwhile, over the past year, PTPP has completed the divestment of its 14% stake worth Rp50.25 billion in PT Citra Karya Jabar as the concession owner and manager of the Cisumdawu toll road.
Then, the divestment of 25% share ownership in PT Prima Multi Terminal or the Kualatanjung Multipurpose Port project was also released for Rp378 billion.
The company's latest financial report for the first quarter of 2021 shows that the revenue of this BUMN Karya company fell 16.73% yoy to Rp2.83 trillion compared to Rp3.41 trillion in the first quarter of 2020.
PTPP's liabilities are now recorded at Rp39.67 trillion, with short-term debt reaching Rp5.43 trillion in the first quarter of 2021.
Still related to the divestment of toll roads, PT Hutama Karya (Persero) plans to also take this action to cover the debt burden. A number of Trans Sumatra and Trans Java toll road projects are offered to investors, such as Bakauheni-Palembang, Pekanbaru-Dumai, to Medan-Binjai.
Meanwhile for Trans Java, the proposed toll roads are the Jakarta Outer Ring Road Section S (JORR S) and the Tanjung Priok Access Toll Road (ATP).
Not much different from the performance of other construction SOEs, the company throughout 2020 recorded a loss of up to Rp2.06 trillion. The company's liabilities also rose 15% yoy from Rp68.68 trillion in 2019, to Rp79.19 trillion in 2020. Meanwhile, Hutama Karya's short-term debt as of 2020 was recorded at Rp1.82 trillion.
The risk of divestment in the midst of a pandemic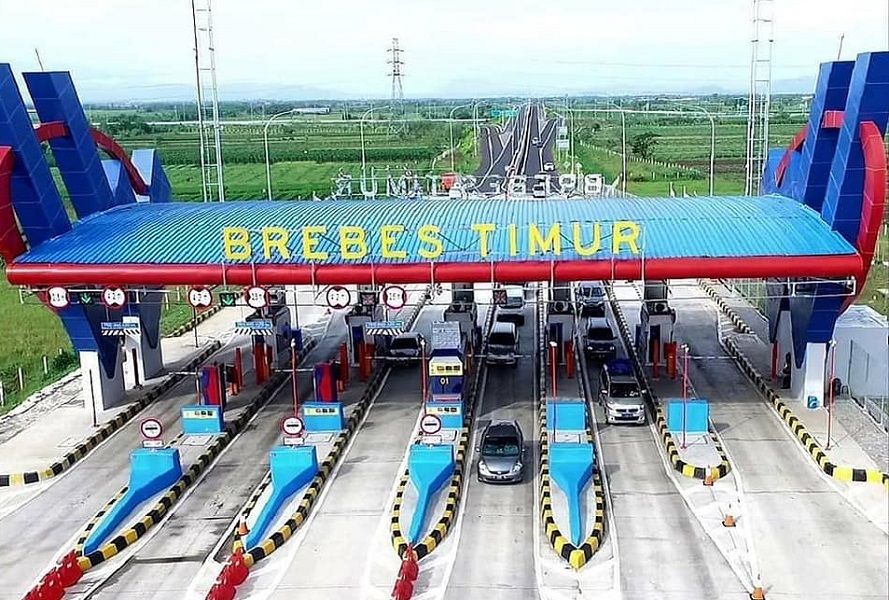 Director of the Center of Economic and Law Studies (CELIOS) Bhima Yudhistira said that divestment efforts are actually increasingly difficult to carry out, especially in the midst of a pandemic situation.
"Before the pandemic, divesting was not easy either. Moreover, community mobility and logistics transportation are low," he said when contacted by TrenAsia.com, Sunday, August 22, 2021.
Reflecting on the last five years, he continued, massive infrastructure projects have caused development utilities to be too low, such as only 30 percent of trains to the airport, fewer toll road enthusiasts, and Light Rail Transit (LRT) which is unable to cover operational costs.
In fact, when the mobility or movement of the community is low, he said, there will be a risk of decreasing toll road revenues. On the other hand, operational costs continue to run so that it can reduce investor interest.
As a result, the risk that must be borne by the state is again carried out through capital injections. "The state must inject SOEs so that they do not fail to pay their debts," added Bhima.
As is known, SOEs Minister, Erick Thohir, himself proposed efforts to restore WSKT with the State Capital Participation (PMN) scheme of Rp7.9 trillion in 2021 and Rp3 trillion in 2022.
In addition, WSKT also received restructuring from a number of state-owned and regional-owned banks. With an outstanding value of Rp19.3 trillion, this restructuring was carried out by five bank creditors. The restructuring value is equivalent to 65% of the company's principal loan which reached Rp29.26 trillion.
Then, recently PMN of Rp 6.2 trillion was also given to Hutama Karya. This decision is stipulated in Government Regulation (PP) Number 77 of 2021 concerning the Addition of PMN to the Share Capital of the Company (Persero) PT Hutama Karya.
The funds originating from the 2021 State Revenue and Expenditure Budget (APBN) are expected to improve the capital structure, as well as increase business capacity in building the Trans Sumatra toll road.
So, with financial conditions that continue to be depressed, do you still want to continue your ambition to accelerate infrastructure projects, dear Mister Jokowi?
Writer: Aprilia Ciptaning
Editor: Sukirno